The 10 Best Synth Plugins & VSTs for Every Genre
---
"To me, the synthesizer was always a source of new sounds that musicians could use to expand the range of possibilities for making music."
— Robert Moog

---
If you want to make professional-sounding music, your plugin library needs some of the best synth plugins and VSTs. Many of the best synth plugins are incredibly versatile, meaning regardless of what genre of music you make, you will find synth plugins useful.
When I started out producing, I thought I could get by with the stock synth plugins within my DAW, but I quickly discovered just how wrong I was. Over time, I felt I could get by with only one or two third-party synth plugins — and wow, was I wrong there too. Having a variety of tools at your disposal will ALWAYS help you tackle a more comprehensive array of sound design challenges.
Why do you need third-party synth plugins? It's the same reason that the best chefs in the world don't use store-brand ingredients, preferring to go to the best bakery for their bread and the third-generation farm for their produce. You get better products from people who specialize in what they do.
Of course, this doesn't mean that your stock DAW synths are bad, per se. It just means that Logic, Ableton, and other DAWs make many different synth plugins and pieces of production technology. They simply can't put in the same time and energy as the boutique synth plugin designers, whose sole focus is on perfecting their small handful of digital instruments.
We've done the homework. We've spent hundreds of hours using these (and many more) synth plugins and VSTs. And this is our final list of the absolute best ones for every genre.
Hardware Synths vs VSTs
Every synth produces noise in its own way. The vast majority of synthesizers have filters and envelopes — filters control the frequencies you hear in a sound, and the ADSR envelopes control when you hear them. Synth VSTs primarily differ in how they actually produce sound. This article will touch on three prominent families of synths that vary in how this sound is generated (even more synths are covered in the Hyperbits Masterclass):
Virtual Analog:

Virtual Analog means a synth is a digital translation of what you might expect from a hardware synthesizer. This generally means that sound is produced by oscillators with a set waveform (saw, triangle, pulse, etc.), passed along to the filter, envelopes, and other FX. You might also see this called "subtractive" synthesis.

Wavetable: 

Wavetable synths have a greater variety of waveforms you can use to produce sounds. A "wavetable" stores many individual waveforms, and the synth has the ability to cycle through those waveforms over time (throughout a single note and even multiple bars), which produces an evolving sound.

Sample/Loop-Based:

 Some purists will argue that sample or loop-based synths (often called romplers) aren't actually synths, but I don't really care if they're right. What I care about is that these VSTs are super unique. What makes a sample and loop-based VSTs different is that you don't produce a sound from scratch (via oscillators) but instead reshape pre-existing audio.
We have plenty of each of these kinds of synths below. This is our list of the 10 best synths and VSTs for every genre.
---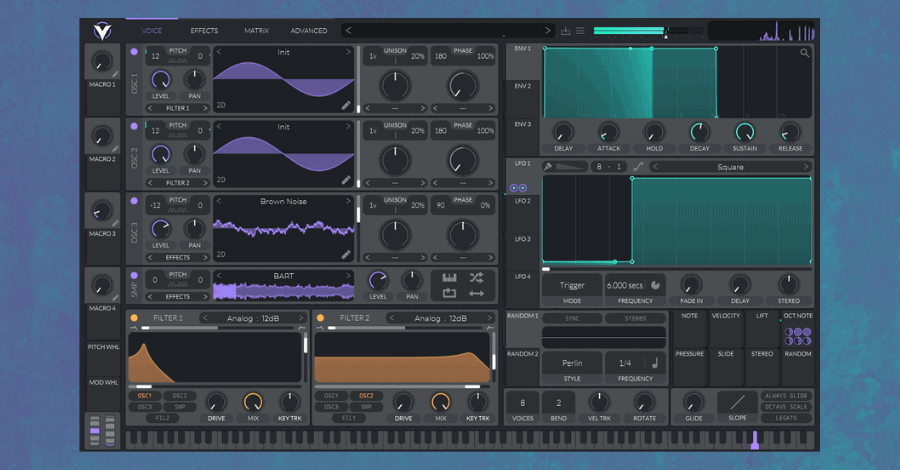 ---
1. Vital
Price: Free, $25, $80, or $5/month
Type: Wavetable
Specs: 3 Wavetable Oscillators, 2 Filters, 3 Envelopes, 4 LFOs, Plus Random Generators, Macro Controls, and an Extensive FX Section.
Why It Made The List: Vital is the new kid on the block in the synth community and has even been called the "Serum Killer" (more on Serum below). It's a high-quality wavetable synth that allows you to easily create your own wavetables through its text-to-audio conversion, meaning you have endless sound design possibilities. This will become a go-to synth for many producers in 2022.
Why It's Unique: There is a free version of Vital (with some limited features), whereas all the others below are paid VSTs. As far as Wavetable synthesis goes, Vital is the easiest to use for creating custom wavetables and sounds.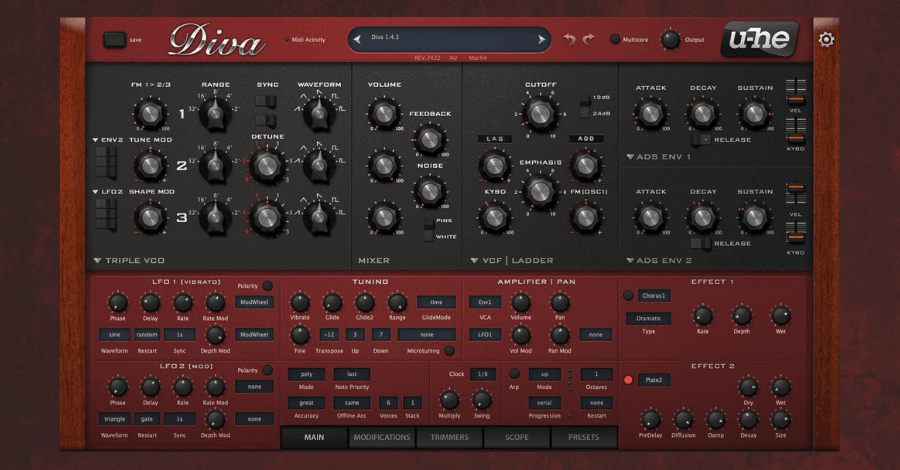 ---
2. Diva
Price: $219
Type: Virtual Analog
Specs: 5 Oscillator Banks, 5 Filter Banks, 2 Envelopes, 2 LFOs, Plus an FX Section and Oscilloscope.
Why It Made The List: U-He's Diva is our favorite analog-style synthesizer. It emulates 5 of the most famous analog synths in existence – Moog Minimoog, Roland Jupiter 6/8, Roland Juno 60, Korg MS-20, and a digital combination of the Roland JP-8000 and Oberheim SEM. You can swap between the oscillator and filter banks of each of the five emulations above, leaving you with 25 oscillator/filter combinations. Diva is a workhorse synth that will allow you to achieve all things analog.
Why It's Unique: Diva is the perfect bridge between the analog and digital worlds. It is clearly inspired by famous pieces of analog gear but provides you the flexibility and stability we expect from digital synths. This is a one-stop-shop solution for analog-inspired sounds.
---
3. Serum
Price: $189, or $10/month rent-to-own via Splice
Type: Wavetable
Specs: 4 Oscillators, 1 Filter, 3 Envelopes, 4 LFOs, and a Suite of FX.
Why It Made The List: Xfer Records' Serum has been the most influential synth in electronic music in the last 10 years. With the hundreds of stock wavetables, dozens of filter types, endless customizability, and many preset banks on the internet, Serum conquers every genre. Beyond its versatility and fantastic sounds, we love the visual design of Serum (which many other synths have since copied). You can visually see all the LFOs and envelopes working, which is a huge plus for sound designers.
Why It's Unique: Because Serum has been the go-to synth for many producers in the last 5 years, there is an ocean of presets, sound banks, and documentation available for it online. Have a question about how to get a particular sound? There are resources to help you answer it.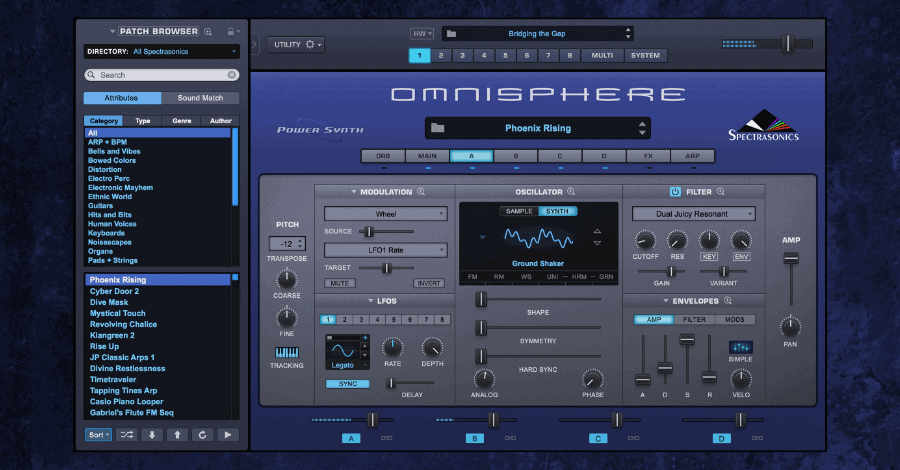 4. Omnisphere
Price: $499
Type: Wavetable, Granular
Specs: 500 DSP Wavetables, 8 LFOs, 12 Envelopes, 34 Filter Types, and 57 Different FX Units
Why It Made The List: Omnisphere, by Spectrasonics, is one of the most extensive and versatile synthesizers on the market. Several types of synthesis, 14,000 presets, endless FX options, and direct integration with over 65 hardware synthesizers. Ominsphere is expensive, but it is expansive and is an essential tool for creative sound design in every genre.
Why It's Unique: Diva handles analog sound, Serum manages unique wavetable synthesis. Omnisphere does it all. Of all the synths on our list, Omnisphere presents the most significant sound design potential for every genre. 
---
---
Price: $199
Type: Virtual Analog
Specs: 6,500 Presets From Over 30 Synth Plugins – Each Preset Has Macro Controls to Tweak the Sound Design.
Why It Made the List: Arturia Analog Lab is our favorite Diva alternative. It harnesses Arturia's V Collection's power, a bundle of dozens of analog-emulation VSTs covering a range of old synthesizers and keyboards. With Analog Lab, you can access and tweak thousands of presets from these other VSTs without buying the individual VSTs first. The high-quality sounds, versatility, and ease of use make it an easy addition to our list.
Why It's Unique: Other synths take inspiration from hardware gear and reimagine them as a VST. Analog Lab gets you as close as can be to the original models. Imagine having a room full of classic synths and being able to audition a patch from any of them with the click of a button. That is what Analog Lab allows you to do.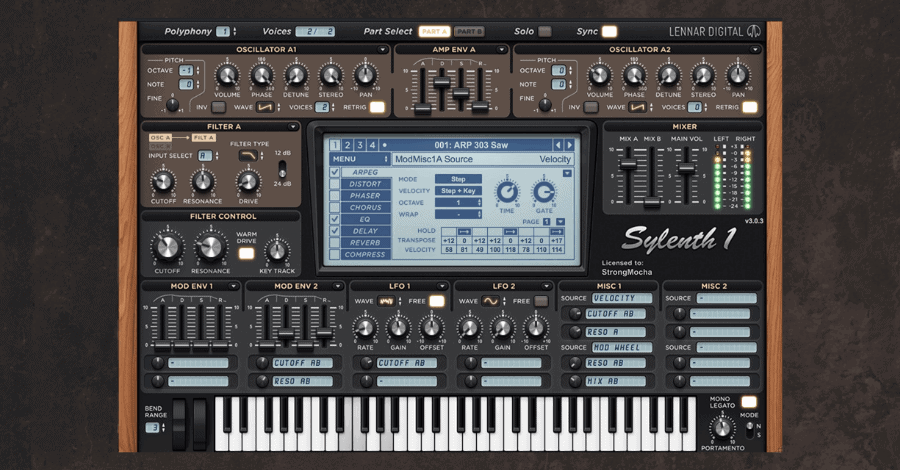 ---
6. Sylenth1
Price: $169, or $12/month rent-to-own
Type: Virtual Analog
Specs: 4 Oscillators, 2 Envelopes, 4 Filters, 2 LFOs, Plus an FX Bank and Arpeggiator.
Why It Made The List: LennarDigital's Sylenth1 is a classic VST in electronic music. Some of its features have been surpassed by newer synths, but Sylenth1 is still a favorite of ours for the "meat and potatoes" sounds we always need to create: warm basses, supersaw chords, and crispy leads. This synth isn't fancy and doesn't have a ton of features, but what it does do, it does well.
Why It's Unique: Sylenth1's arpeggiator is a defining feature of the synth. Plus, its 4 oscillators are routed to 2 different envelopes, meaning you can create and layer two totally distinct sounds within one patch.
---
7. Kontakt
Price: $399
Type: Sampler
Specs: 55 GB+ Sample Library, Extensive Modulation Options, and Wavetable Synthesis Module.
Why It Made The List: Kontakt by Native Instruments is one of our favorite samplers. It has TONS of libraries and modules built-in, including everything from strings and orchestral sounds, to drum kits, to synthesizers. As a sampler, Kontakt relies on recorded audio files for sound generation, which is different from other forms of synthesis. But these recordings sound amazing, as do the sounds you can produce with them. This is our go-to solution for real instrument sounds.
Why It's Unique: Kontakt is different from the other VSTs on the list because it is a sampler. You start with real sounds from acoustic instruments but can still shape them using tools (like LFOs and envelopes) from traditional synth sound design.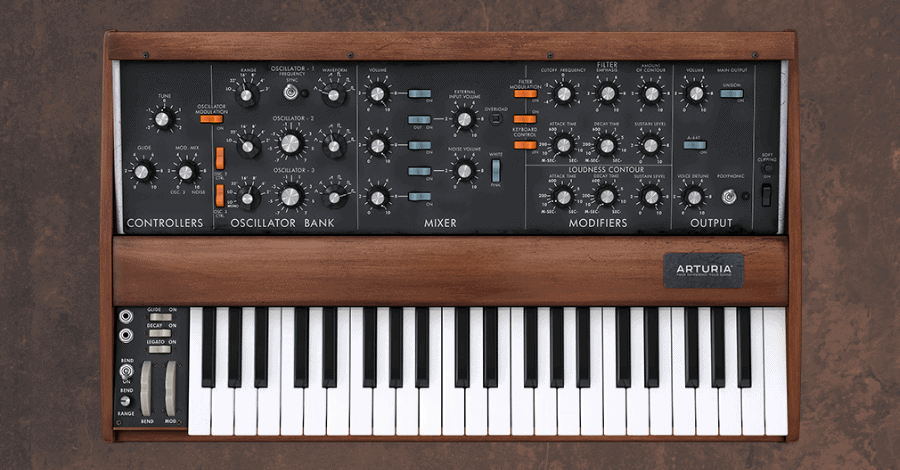 ---
8. Arturia Mini
Price: $149

Type: Virtual Analog
Specs: 3 Oscillators, 1 Filter, 2 Envelopes, 1 LFO, and Extensive Modulation Matrix
Why It Made The List: Arturia's V collection now houses nearly 30 synth VSTs, and the Mini is our absolute favorite. It's an emulation of the Moog Minimoog, the most influential hardware synthesizer in music. Not just electronic music, all music. Period. The Arturia Mini is nearly indistinguishable from the original and produces fat basslines and heavenly leads. Regardless of your genre, the classic sounds of the Mini will give your productions a timeless feel.
Why It's Unique: Many synths claim to offer "Moog-style" sounds, but the Mini takes the cake for the most faithful emulation. It doesn't provide endless sound design possibilities like some other synths, but it is a true analog emulation VST through and though.
9. Spire
Price: $189
Type: Virtual Analog
Specs: 4 Oscillators, 2 Filters, 4 Envelopes, 4 LFOs, and FX Bank
Why It Made The List: I'll be honest, Reveal Sound's Spire isn't my favorite synth. It sounds crispy clean, which can be good for some purposes but can sound too sterile for others. That said, Spire has left an unmistakable impact on all things progressive: this is the go-to synth for many trance producers. Why? Because it's excellent at making sounds for that genre. If you're looking for big supersaw chords, stabby baselines, or lush pads (like we know from trance), Spire is a go-to option, regardless of your genre.
Why It's Unique: Straight up, Spire sounds punchy and clean. There is something about its unison that makes massive chords and pads sound clear, smooth, and transparent.
---
10. Arcade
Price: $10/month
Type: Loop Synthesizer
Specs: Arcade by Output is a "15 voice sample playground". It connects to Output's extensive loop library, which is then processed through 11 effects, macro sliders, and robust modulations.
Why It Made The List: Arcade is an easy-to-use tool that gets you excellent sounds fast. Output's loop library is updated daily, meaning you'll always have new sources of inspiration every session. It's a total reimagining of synthesis (and music production) that is entirely different from other synths.
Why It's Unique: Arcade offers a totally unique approach to sound design. Rather than building sounds from scratch and tweaking waveforms, you start with a full loop and tweak it to taste. The upside is that you can quickly get pro-level sounds. But this comes at the cost of not having complete control over the sound itself.
Final Thoughts
The past few years have seen exponential increases in the quality of soft synths, so much so that the aspect of "sound quality" isn't really even a consideration in the timeless debate between hardware and software synthesizers.
Each synth will add something wildly different to your arsenal, and it is essential to consider precisely what you are looking for:
Do you want rigid, bright, and modern sterility? Then Spire and Sylenth1 might be for you.

Do you want to introduce sonic randomness associated with hardware? Diva and Arturia might be your new best friend.

Do you want stringent control and endless possibilities? Omnisphere and Serum will offer you that, though in entirely different ways. 
Those are our 10 favorite synths and VSTs for every genre. Each synth above is unique and is capable of producing wholly different palettes of sounds. We absolutely recommend picking up at least a couple of them to expand the palette of sounds at your disposal.
But grabbing your ideal soft synth is just the start of the battle – you also need to know how to use it. We dig deep into sound design, synthesis, and achieving a professional sound in the Hyperbits Masterclass. Instructors are on hand for current students and alumni alike to answer any questions surrounding all of the synths listed above, and so many more.
Happy sound designing!
---