"One of the most reliable and talented engineers I've had the pleasure of working with."
– Matt D'Arduini, VP of Island Records
SEE OUR FINISHED WORK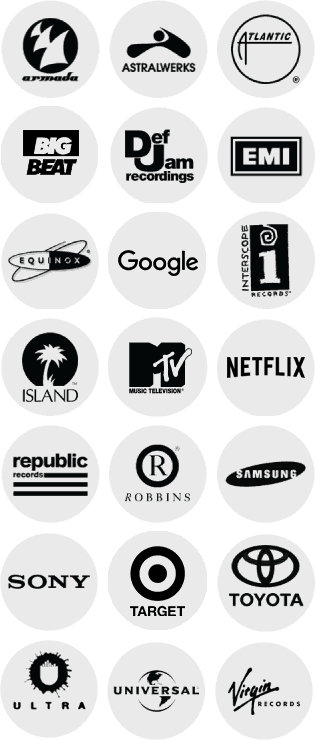 MASTERING
Let's push your pre-master and create a clean, competitive, commercially loud master, delivered as a 24 bit WAV.
STEM MASTERING
Stem out your mix-down into groups and we will create a fresh, clean master with commercial polish and gloss.
MIXDOWN & MASTER
Let's address each individual sound, sample and layer and create a radio ready release your favorite DJ would support.
GHOST PRODUCTION
Beatport, Spotify & iTunes ready tracks owned entirely by you in any genre you'd like with unlimited edits and revisions.
EXAMPLES OF OUR WORK
MASTERS
---
---
Manse - Freeze Time (INZO Remix)
---
Atlantix - We Want It All
---
Tove Lo - True Disaster (Hyperbits Remix)
---
Laidback Luke - XOXO (Hyperbits Remix)
---
Steve Void - Chemistry (Syence Remix)
---
Nick Jonas - Jealous (The Rooftop Boys Remix)
---
Neon Trees - Sleeping with a Friend (Hyperbits Remix)
---
I'M IN. HOW DOES THIS WORK?
Select Your Service
• Masters - 2 Business Days
• Stem Masters - 5 Business Days
• Mixdowns - 7 Business Days
Send Stems via WeTransfer
• Shoot over your artistic direction
• Include a reference track
• Provide midi for potential layering
Master Sent Back for Approval
• Unlimited edits (it's done when it's done!)
• 100% money-back guarantee
• Masters delivered as a 24 bit WAV
Select Service & Pay
• Masters - 2 Business Days
• Stem Masters - 5 Business Days
• Mixdowns - 7 Business Days
Send Stems + Reference Track via WeTransfer
• Shoot over artistic direction
• Include any additional thoughts
• Provide midi for potential layering
Finished Track Sent Back for Approval
• Unlimited edits (we're not done until you say so)
• 100% money-back guarantee
• Masters delivered as a 24 bit WAV
Select Service and Purchase
• Masters - 2 Business Days
• Stem Masters - 5 Business Days
• Mixdowns - 7 Business Days
Send Stems through WeTransfer
• Shoot over artistic direction
• Include any additional thoughts
• Provide midi for potential layering
Master Sent Back for your Approval
• Unlimited edits (we're not done until you say so)
• 100% money-back guarantee
• Masters delivered in 24 bit
Select Service and Purchase

• Masters - 2 Business Days
• Stem Masters - 5 Business Days
• Mixdowns - 7 Business Days

Send Stems through WeTransfer

• Shoot over artistic direction
• Include any additional thoughts
• Provide midi for potential layering

Master Sent back for your Approval

• Unlimited edits (we're not done until you say so)
• 100% money-back guarantee
• Masters delivered as a 24 bit WAV
COOL STUFF ABOUT US
Industry Experience

We're talking 14 years + in the biz

Proven Track Record

Tons of plays. Over 15 million, in fact

We Are Malleable

We love to work in any genre

Equipment

Modern, up-to-date plugins + UAD hardware

Rich History

We've worked with huge artists like Beyonce & Tove Lo
COOL STUFF ABOUT YOU
Commercial Polish

An iTunes, Spotify & Soundcloud ready track

Stay In Control

Unlimited edits & revisions

Get Noticed

Take your sound to the next level

Focus On What Matters

Spend more time composing

We Actually Care

We're happy to give mixing notes before we even start
Unlimited Edits
Unlimited Revisions
Turnaround: 2 Business Days
Submit up to 1 stem
Buy Now
Unlimited Edits
Unlimited Revisions
Turnaround: 5 Business Days
Submit up to 12 stems
Buy Now
Unlimited Edits
Unlimited Revisions
Turnaround: 7 Business Days
Submit up to 30 stems
Buy Now
WHAT OUR CLIENTS ARE SAYING